Check out our picks of the 7 best waterfall hikes in New York!
When you think about New York, there are probably a few images that quite naturally come to mind. You probably see towering skyscrapers, busy streets, yellow taxi cabs, and that incredible skyline.
And that's a pretty accurate idea of New York City, but the city only makes up a tiny part of New York as a whole. That's just a little stretch of land at the bottom of a state spanning 50,000 square miles.
The rest of the state is pretty much the opposite of what you can expect from NYC. It's full of mountains, rivers, lakes, lush forests and small towns. Upstate New York is beautiful, and in a sense, it's a hiker's paradise.
There are so many amazing trails to check out. If you want to scale some mountains or trek around a lake or just navigate a dense forest, you can do all of that. But another thing New York has to offer is a wealth of awesome waterfall hikes.
Here are 7 of the best ones for you to check out.
Breakneck Ridge
You'll find this trail on the Wilkinson Loop near Cornwall-on-Hudson. It's a 5.1-kilometer loop.
You're unlikely to actually break your neck while navigating this trail, but its name is not entirely unwarranted. This is a difficult waterfall to take on, especially in the early stages when it's a bit of a scramble.
Expect to start climbing pretty much straight away when you're tackling this hike. Though there are a lot of rocky patches and steep inclines, there are also amazing views all the way up so it will be worth it.
I would suggest only trying this if you already have a decent amount of experience hiking, and make sure that you have all the necessary equipment and the right clothing before you go.
Bull Hill
This trail is located not far from the town of Cold Spring, and it's an 8.7 km loop.
Though this is quite a bit longer than the Breakneck Ridge loop, it's nowhere near as taxing because the trail is much smoother. You will mainly be trekking through the woods as opposed to navigating steep inclines or scrambling over rocks.
This hike will take you past some incredible sights. You'll see the ruins of an old farm and estate, you'll pass an abandoned rock quarry, you can get a great view of the Hudson Valley, and if you're here on a clear day you can even see the New York skyline from the top.
And of course, there are several small waterfalls for you to enjoy along the way. This would be classified as a moderately challenging hike so you can try it if you're not massively experienced but you'll need to be careful and prepared for a long trek.
Indian Head Mountain
Found near Keene in Central Essex County, this is a popular, 17.4 km hike.
This is the trail for you if you want to get a good look at Rainbow Falls. One of the taller waterfalls in the state and one of the most beautiful ones too. Though it's a very long hike, it's not a particularly difficult one.
There's no rock hopping, no major scrambling or tricky inclines or anything like that, which makes it the perfect trail for families or the less experienced, as long as they know they're in for a long walk.
Once you get to the top, you can look forward to some incredible views of the Adirondacks.
Letchworth Gorge Trail
This is an 11.5 km trail that you can find in Letchworth State Park near the quaint little village of Castile.
The park actually has over 60 miles worth of trails in total and there are many that are a lot shorter and easier than the Gorge trail, but you're here for the waterfalls, and you'll get to see some stunning ones by way of the Gorge.
There are three primary falls you can see here, the first of which is over 70 feet tall and situated right under a massive railway trestle. It's a pretty amazing sight. The Middle Falls then are also tall and pretty and the Lower Falls might lack the height of the first two but they make up for it in width.
Reeves Brook
You'll start this trail in Reeves Meadow just outside of Sloatsburg. It's another moderate trail at 6.1 km.
If you want to see beautiful streams, falls and mountainous views, this is the perfect hike for you. It's somewhat of a complicated area because there are a lot of tracks crossing over each other so you need to keep an eye on trail markers to ensure you don't veer off course.
It's best to experience this hike in the early fall. As you get closer to winter it becomes a bit too difficult to navigate safely but it's known for being a hot one when attempted in the summer.
Gertrude's Nose
Quite appropriately, this loop can be found near the High Falls reservation in Philmont. Another long one, at 10.8 km.
In addition to the views of the falls, there are some other fantastic sights to expect when you're on this trail. You'll walk through a lot of dense woods and ultimately find yourself surrounded by a lot of cliffs and rock formations.
The most significant of which is the eponymous Gertrude's Nose. From this rock formation, you will have a stunning view of Lake Minnewaska. It's a sight that can't be beaten, and you'll be itching for more of the trails around the lake once you've gotten a taste of it.
Taughannock Falls
Taughannock Falls State Park is just a little way outside the town of Ulysses, and in it, you'll find the quickest trail on this list at just 3.2 km.
And though the trail may be short, the waterfall is anything but. This is actually the tallest free-falling waterfall East of the Mississippi River. Tucked away in the park nearby Cayuga Lake, this is a whopping 215 feet high.
You could call this the state's best-kept secret. You are basically guaranteed a quiet hike even if you go in the middle of the summer, which is the best time to fully experience this. It's a little bit rocky, but for the most part, this is a quick and straightforward hike with an incredibly climactic and rewarding sight at the end.
There is no shortage of epic views and exciting trails in New York state, and if it's waterfalls you're after, then you'll never be stuck for choice.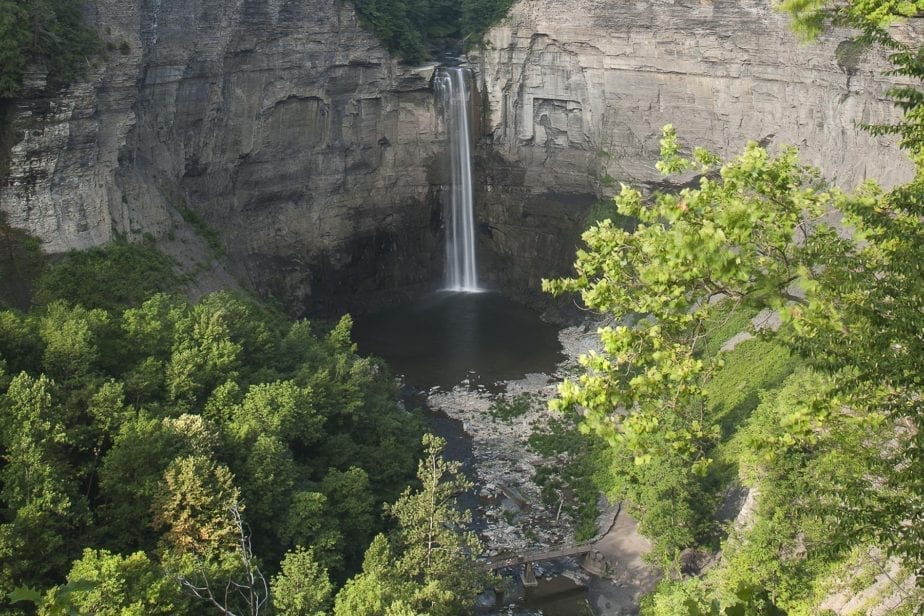 Article contributed by: Norma Spencer
While we have minimal photos here in the article, we thank Norma for submitting this beautiful article, and welcome any guest contributors to add to the collection of growing articles here on Dig The Falls!