Burden Pond Recreational Area and the Narrows Project
The Narrows Cascade and Heritage Trailvis a multi-year project that will require hundreds of volunteers, will span half the City of Troy, and encompasses many acres of natural and green spaces within the City.
While what we did today was a small stone to this very large pond, the ripples will be what empower the next steps of this massive community purposed project!
Truly a project for the surrounding communities, "the Narrows" has the sole purpose of offering the city residents the ability to experience these beautiful spaces with easily accessible trails that are free and clear of trash and other hazards. Our goal is to give you the opportunity to immerse yourself in over 150 years of history right down to the bedrock of the Poestenkill Gorge!
Use the hashtag below to have your photos featured in the future!
#narrowstroy
With this said, we need to clarify that while the City of Troy is involved with the management of some of the lands and also some for the decision making for the project, no funding is derived from the city to fund this project. Please reference www.NarrowsTroy.org for more details of this privately funded project.
Since I am the cool dad that no one talks about, I thought I would share a little from my perspective of the day. I left Momma Dig The Falls with Charlotte (our three-year-old) while I took our one-year-old twins with me for the day. You can see how excited they were to be along for the ride!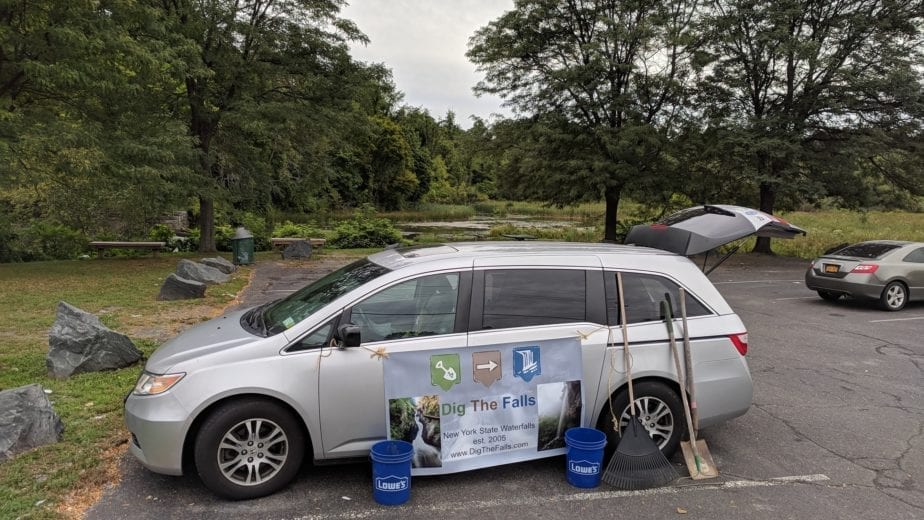 After waiting a bit too long to get them out into this beautiful spot, I put the twins into the stroller and started picking up trash at the parking area, managing to fill my first bucket after only ten minutes! You can image our disappointment… It was a first impression I wanted to share with you, because we will need your help with this, moving forward.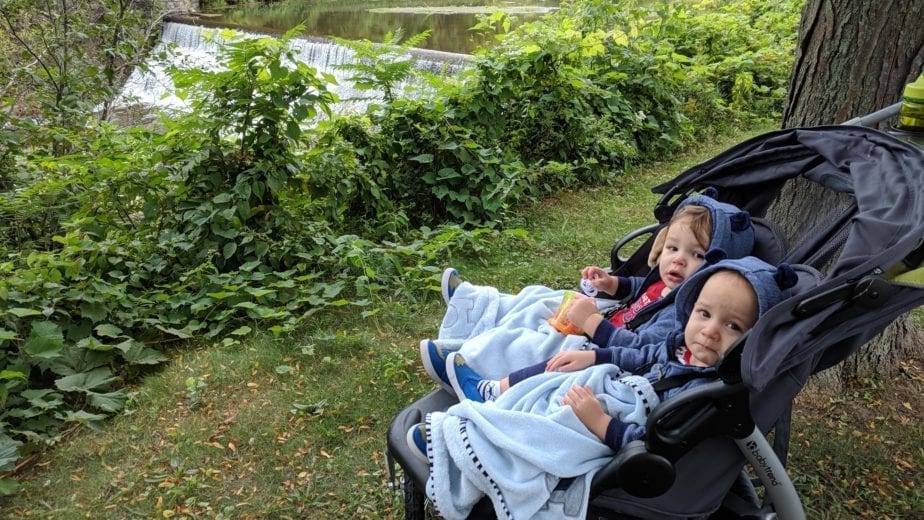 Getting back on track; when everyone arrived and had introduced themselves, Joe Durkin (Rennselaer Land Trust) and John Johanson (Founder of the Troy Narrows Project) gave a brief rundown on the project and the historical value of the areas the trails (will) run through. Between the two of them, I can't believe more people are not involved… yet!! (If you are a small to medium-sized business and want to do good, especially if you are a contractor or a stone and gravel hauler, please pitch in! You won't regret it! We have plenty of blog and promotional space 🙂 ).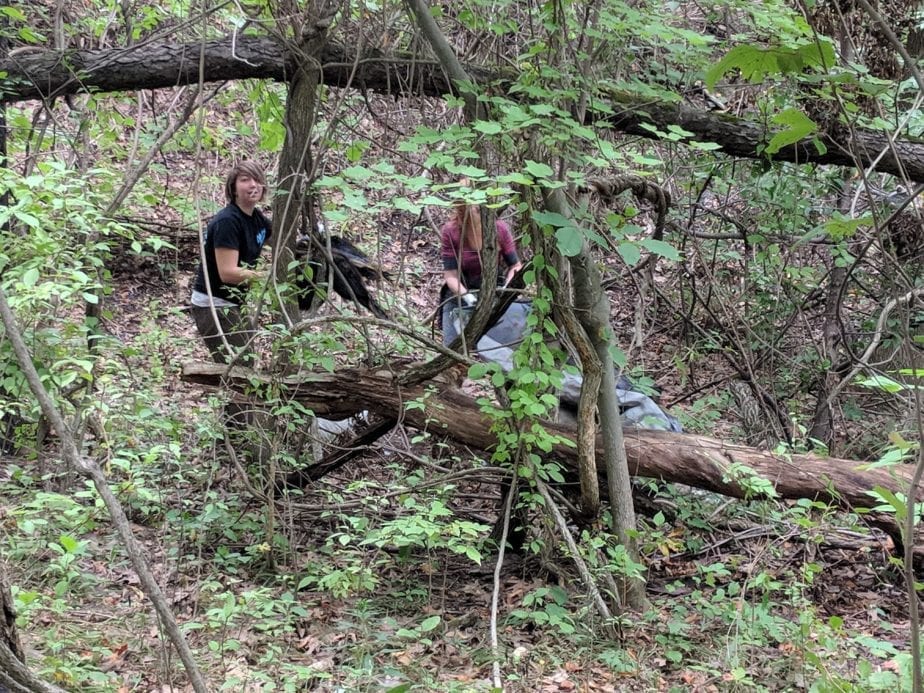 I was rather surprised to see that the litter we were picking up wasn't on the trails so much as it was just scattered all over. Needless to say, our volunteers were kept very busy.
Broken glass, plastic bottle, tents, tires, batteries… You name it…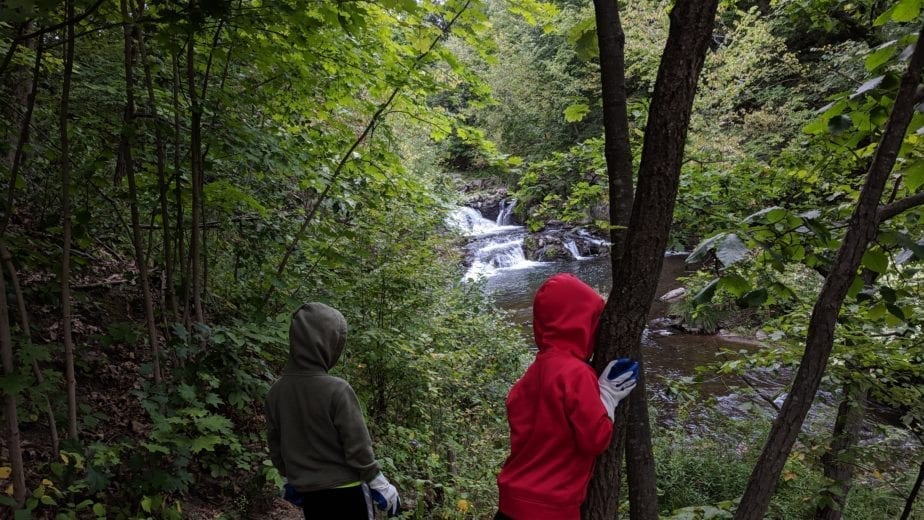 We had some younger members rejoin the forces as well – these two little guys were on our last local cleanup. It was nice to see new and familiar faces on this cleanup effort. We are so thankful for all of our volunteers!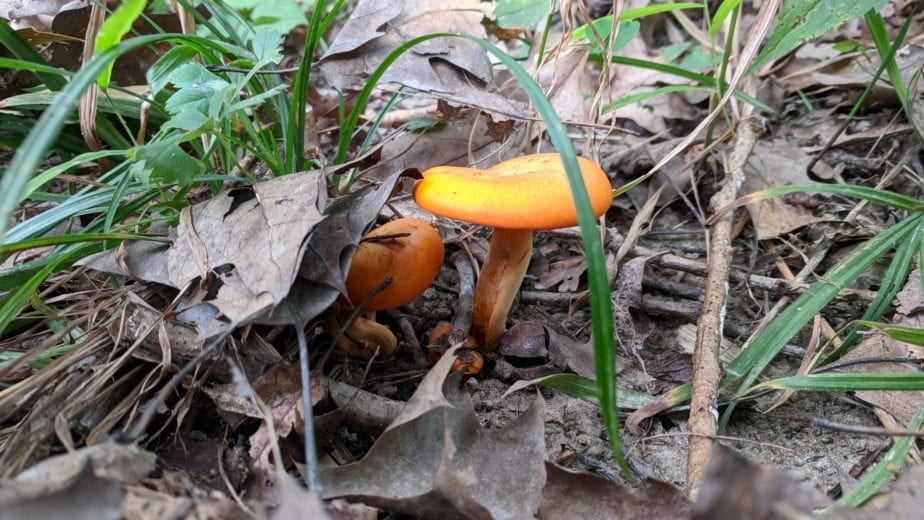 The area is full of animals, plants and many different varieties of mushrooms and wetland plants, along with wildflowers and some fruiting plants and vines.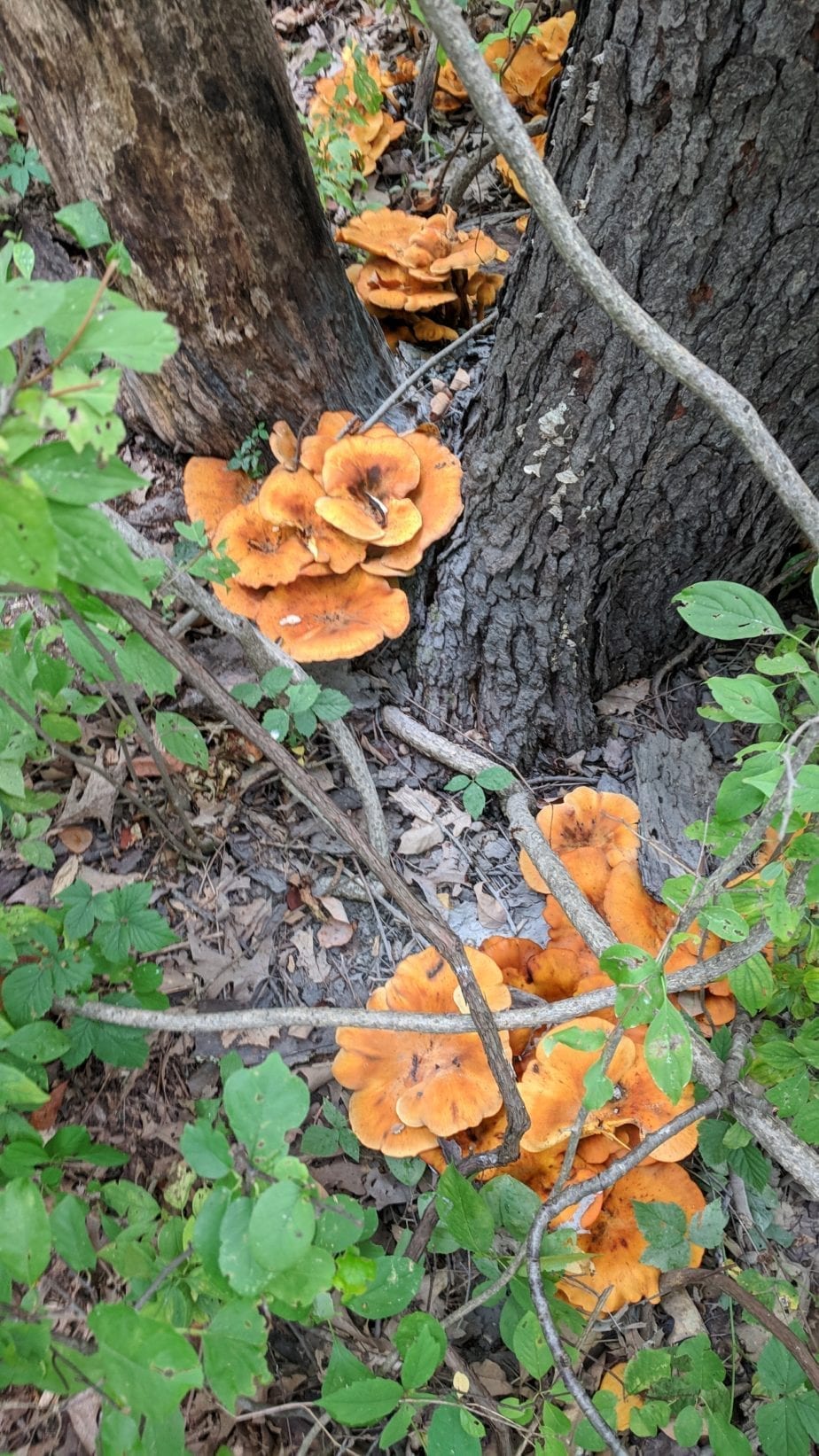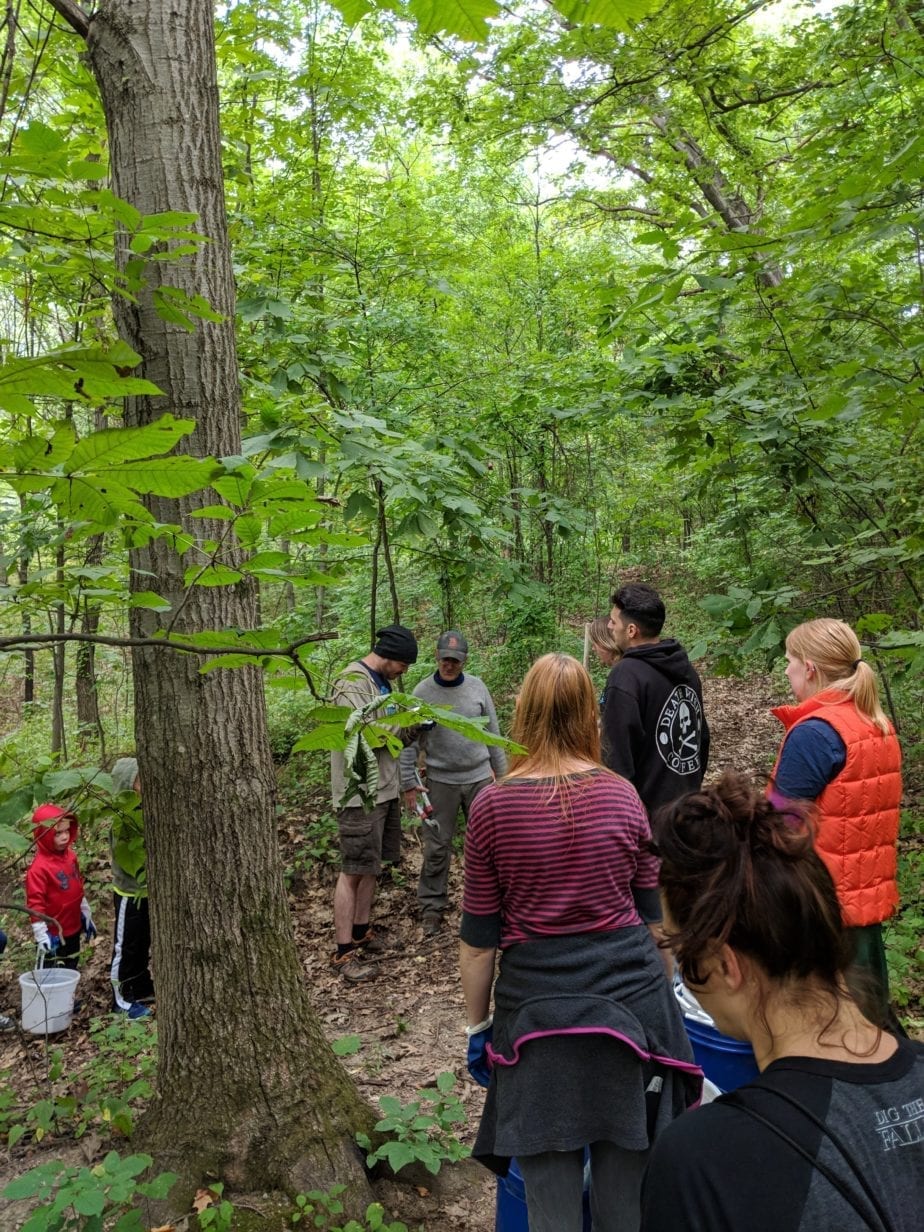 Joe was nice enough to explain some of the topography to the group and how, historically, much of the areas that were hiked that day would have been underwater 100 years ago. The entire area was utilized by factories and mills.
Speaking of History: The Ultimate goal will be to add one last bridge, which will span the Poestenkill Gorge, just as you see in the historical photo below.
This will be the most labor intensive and most expensive endeavor in the entire project, which is why it will be left to almost the very end. Please stay tuned to follow the Narrows progress at www.NarrowsTroy.org!!
Don Rittner is a local historian who has written many books about Troy and the surrounding cities. Please support his work at local area bookstores!
We cannot stress enough how important this area is for the community and for people like yourself. It truly is an incredible area.
Gosh, there was a lot of trash! And we still need to go back for more!
Ed, one of the newest volunteers, was a beast on the trail! Did we mention we love new faces??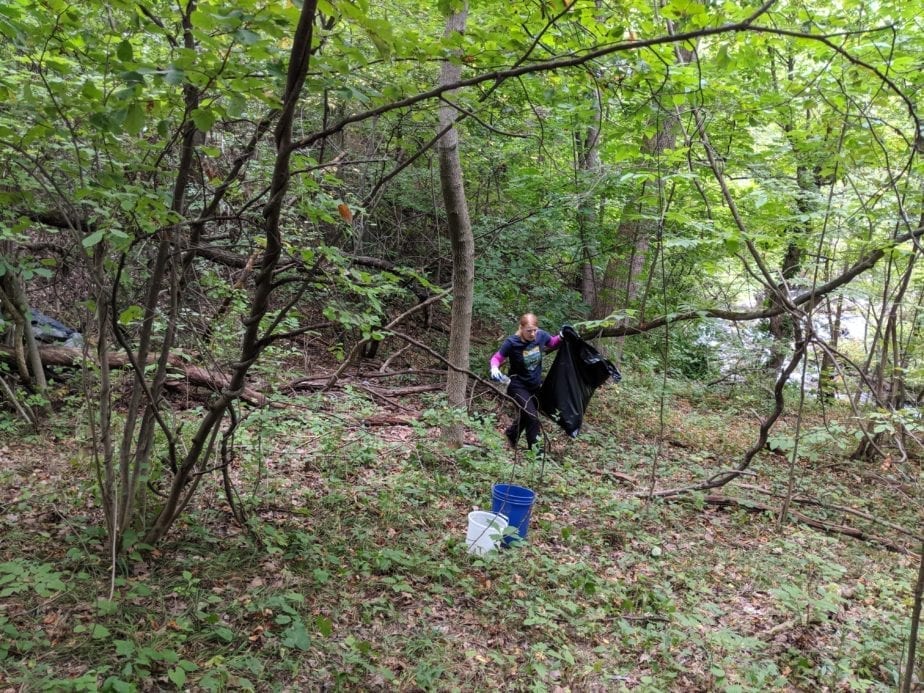 After just a couple hours, we made a huge dent in the area. This is only a portion of the trails here, and there are about five times the areas still in need of cleaning up!!!
…and other areas still in need of a LOT of work…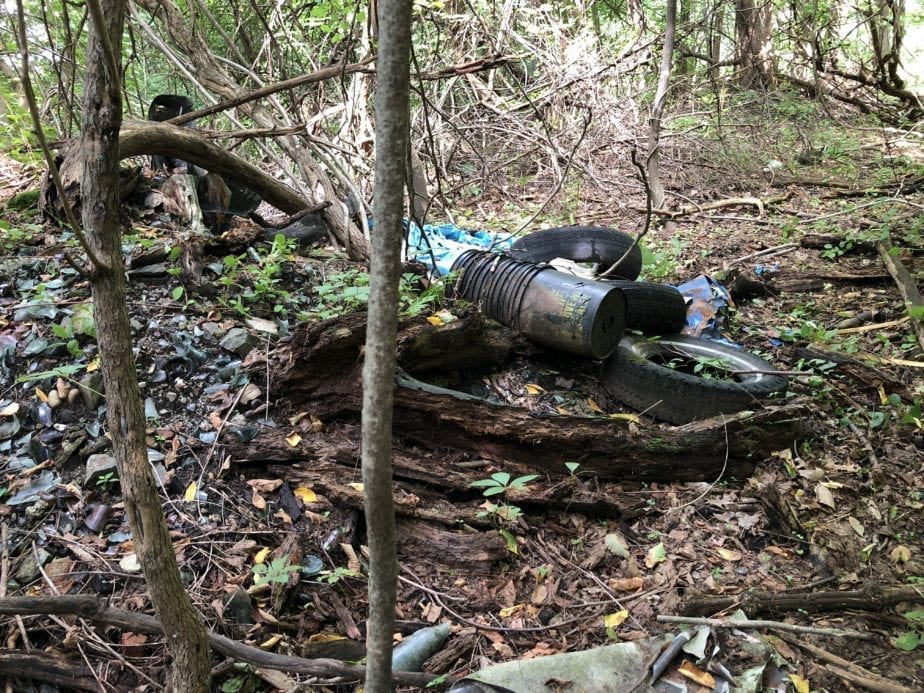 …Imagine this was your backyard… Because it is… We need your help!
People like you will be the catalyst needed to get this project at warp speed and that is exactly what we are going to make happen!
We were not able to get everyone in the photo as some had to leave early, but you can see here that our efforts did pay off. If it were not for the people that volunteered, we wouldn't have captured even half what you see here.
Stats
Best items:
Several tires
Car Battery
Tent
FULL cans of alcohol
Donations:
$10
Cost:
>$300 total so far
This will be a multi-year project; stay tuned for the coming cleanup efforts. We have lots of opportunities for you to get involved!!
For more information on New York State waterfalls, please visit our New York waterfall map.