The widest and the tallest waterfalls in New York State.
Many have opinions on which waterfall is the biggest in New York state. We try to list the widest and the tallest waterfalls in this post, since the 'biggest' is a little vague and the waterfalls in New York are so dynamic!
Now, before you jump to conclusions, a few caveats:
This is based on current data sets collected by Dig The Falls
Some measurements are from historical data and may have been updated recently
Upstate NY starts at the northern border of Westchester County (just kidding… not really)
Widest in New York
I'm going to start with the widest waterfall in NY, since most don't consider this a remarkable trait for a waterfall, unless you are talking about Khone Phapheng Falls which is 35,000+ feet wide. I wanted to make this easier by adding the rule that it has to be a single waterfall and not a grouping, like Niagara Falls. Some may argue that part of Niagara Falls is in Canada, so that would exclude the Canadian side from the measurements as well.
With a very quick look over our list, it seems Cohoes Falls has the longest individual crest. At 600 feet, there are few waterfalls in New York that rival its width.
Tallest in New York 
The tallest waterfall in New York state is open for debate among many waterfall enthusiasts. Even among some of the Dig The Falls community! There are some very knowledgeable experts that have weighed in over the years, with some very valid points, but we believe we have it narrowed down to an obvious leader.
Kaaterskill Falls always comes up as one of the first mentioned. While it is very tall, it is a double drop waterfall. This makes it two waterfalls counted as one location and has historically always been referred to as (singularly) Kaaterskill Falls. Off the top of my head, the total drop between the two falls is about 350 feet.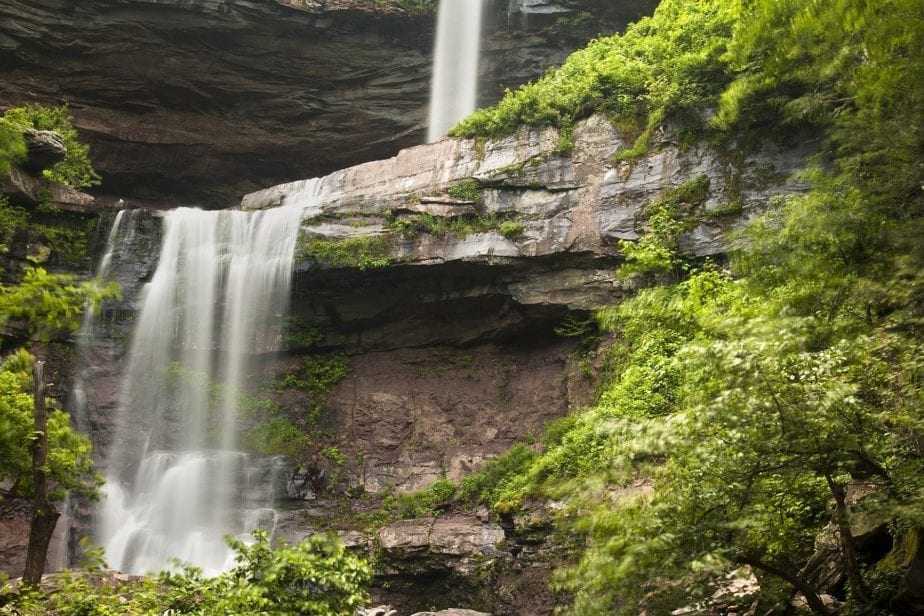 Taughannock Falls is always a close second, due to its amazing single drop, and platforms to view it from. Yet, this waterfall is just over 200 feet high.
Doing a quick Google search gives you:
Kaaterskill Falls – 231 feet
John Boyd Thacher Park (escarpment/falls) – 230 feet
Taughannock Falls – 215 feet
Verkeerderkill Falls – 187 feet
Niagara Falls – 167 feet
Not exactly convincing data…
To date, we have only seen one single drop waterfall that measure the highest. Although it is ephemeral (seasonal in nature), it is still considered due to its known history in the grand canyon of the east, Letchworth State Park. Inspiration Falls turns out to be the tallest single drop waterfall of New York state, in the Genesee River valley.
There are several sources for the exact height, and the flow can change the way the drop is measured due to the water hitting the cliff walls as the water falls. The overall consensus is that the falls, when flowing well, drop about 350 feet total. Falzguy has some great photos of this area of Letchworth State Park!
Check out the thorough write up at Falzguy.com
There are some opinions that there may be some 500 foot waterfalls in the Catskill region. The Dig The Falls team has not yet been able to verify a single drop waterfall measuring over 350 feet, although there are a couple of multi-drop locations with a overall drop of 500 feet or more!
As always, Happy Waterfalling!