Shooting the Falls – Split Rock Falls
By John Haywood
Split Rock Falls in Underwood, an area inside the Town of Elizabethtown, NY, is without a doubt one of the most popular swimming holes in the Adirondacks. Due to its accessibility, hundreds flock there each year to cool off, hang out, or grab a photograph of this unique place.
Here, not only do the falls alone give you a nice image, the entire area makes for a great photograph. It's just a matter of what you're trying to do. Do you want a moody photo? An energetic photo showing the falls and all its power? Or would you like to tell a story of this place?
On this occasion (I stop here frequently), The afternoon light was sinking as I was traveling back from Lake Placid. I decided to stop by the falls to see what kind of light was happening. I had an idea for a photograph and it was just a matter of timing.
When we got there, I immediately when to a spot where the rugged rocks jut out and make for nice footholds. I set up the tripod and attached a wired shutter release. Then I waited. I grabbed a few shots as I looked for the path of the sun so I could line up the light to shine through the mist that was being kicked up. Well, that didn't work out so much so on to "Plan B". While the sun wasn't lighting up the mist, it was lighting up the water as it spilled over this two-tiered waterfall.
I wanted to capture a more subdued, ethereal look so I set my aperture to 27 to allow me a slower shutter speed. A slower shutter speed creates a "smokey", "creamy" look to the water. This is caused by the shutter being open longer and the moving water becoming blurred. I was also exposing for the illuminated water. I didn't use a polarizing filter because I wanted to preserve the light reflecting on the water below the falls.
"I had an idea for a photograph and it was just a matter of timing."
This look and the natural look of a waterfall being captured at 1/60 of a second to freeze it in its natural state have been argued repeatedly over differing forums. I say this – "It's your photograph. You make it how you want."
I lined up the shot with the waterfall ever-so-slightly off-center to the right. I did this A – Because I liked the way it looked and B – I wanted to allow room at the bottom for the water that was racing away from the falls. As the quickly-fading light moved across the scene, I captured a series of images at 1.5 seconds each. When photographing water, I like to have a few shots to choose from because I look for different patterns in the water.
A lot of photography is your thought process and your mindset. I can't begin to count the times when I had "the perfect shot" in my mind and when the time came, it was stuck. This is why it is so important to know your camera, know your processes, and never give up when things don't go your way. I've learned to adapt to any situation and if I can't get the big shot, to look for a smaller shot or a totally different shot. Think in color AND in black and white! You may have thought up a nice photo for color, but if it's raining, maybe that would still look great in black and white. Always keep our thinking cap on!
Settings:
Camera – Nikon D7000
ISO – 100
Aperture – f 27
Shutter Speed – 1.5 seconds
Exposure Bias – 0
Focal Length – 26mm
Additional – Tripod, wired shutter release
The final image: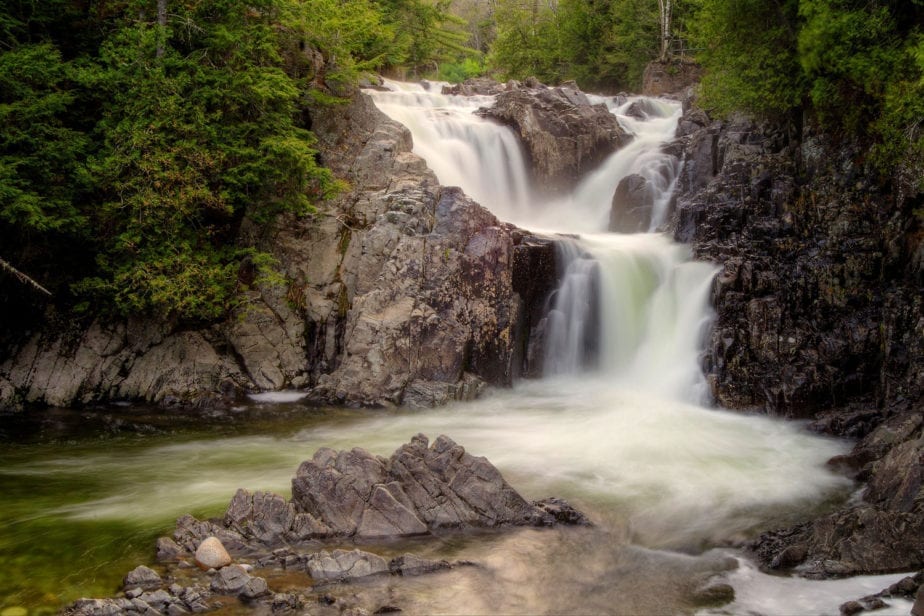 John Haywood is the photographer and creator of the Waterfalls of Upstate New York Calendar and Facebook page. If you have any questions, please email johnhaywoodphoto@yahoo.com.